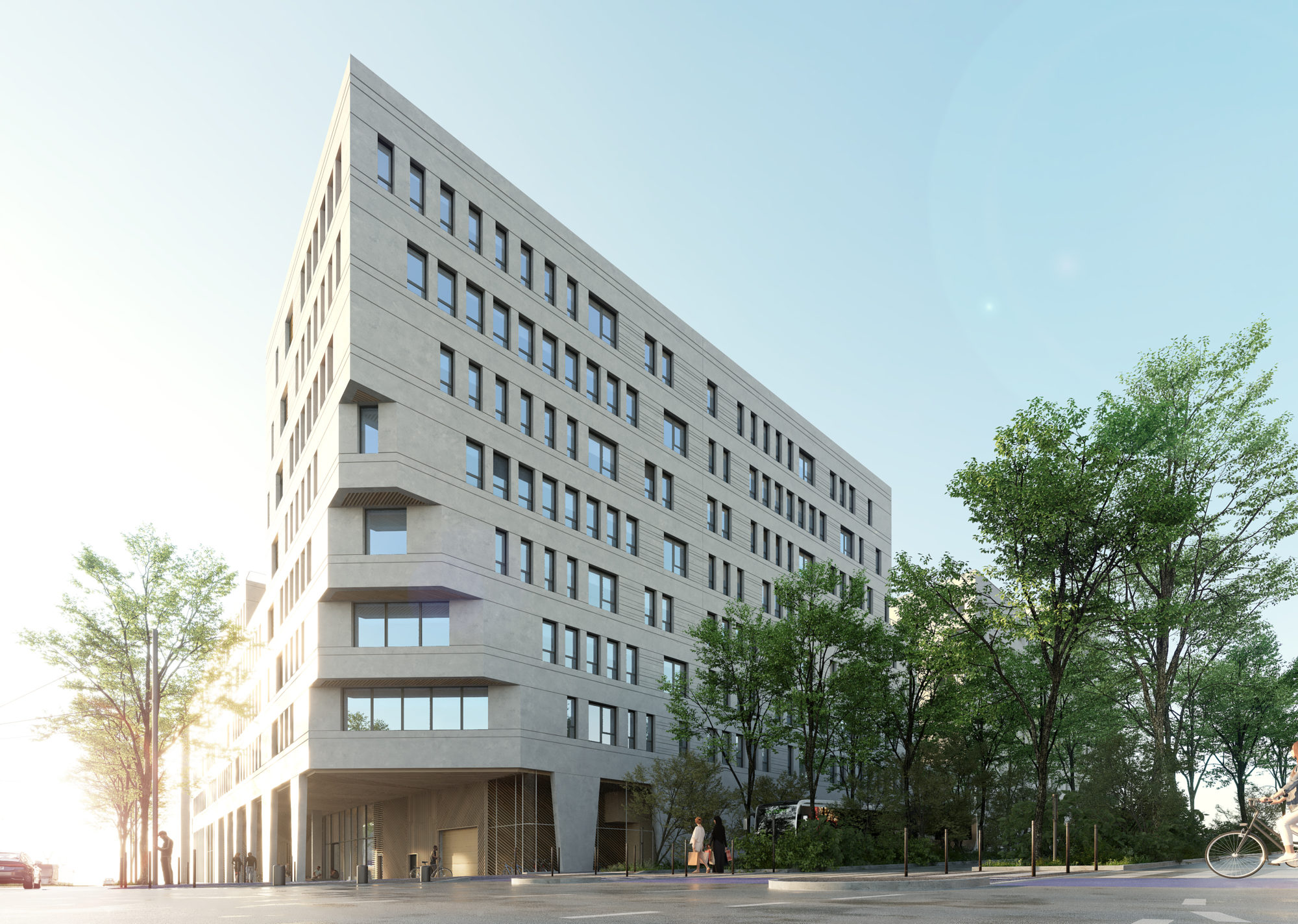 13 125 m2 ; Équipe : Lynkcity Sud Est + Bouygues immobilier (MOA) + VLAU (architecte mandataire) + Kardham (architecte) + Hélène Pépin (paysagiste)
Architecture adapted to the Mediterranean climate
RTE's south-eastern metropolitan headquarters sits at the heart of the Phare Block (Lighthouse Block) in the Fabriques district of Marseille, nestled between the city centre and the northern districts.
Sitting at the intersection of the Rue de Lyon and the Avenue du Cap Pinède, alongside Euromed 2 it forms the heart of a new economic centre and is one of the symbols of the renewal of this once peripheral part of the city.  RTE's design is a symbol of this transformation. Resembling a geological uprising, it is a rock, a towering landmark embodying the change in this part of Marseille, integrating and using all the constraints and advantages of the site.
To the north, the building rises eight stories and forms a 30m slope, which alongside the north wall – created like a stack of geological layers – protects the heart of the island site from the fiery breath of the Mistral. To the south, the building drops, revealing large, accessible and protected roof terraces.
Sheltered by the north wall, the core of the island resembles the restanques (terraces) of Mediterranean valleys, protected from the wind, bathed in sunshine and freshness, useable by employees and locals. The north-east corner with its singular geometry, decreases in a corbelling effect. The impression, standing at the intersection of the two arterial roads, is to reduce its mass from the ground, like a cavity in a rock.
The rising facades in light concrete are the architectural translation of geological imagination: interspersed with chiselled perforations, they follow a woven rhythm of solids and voids, playing with the sun of Marseille while bringing light and luminosity to the spaces they create.
If the two street facing facades are the steep slopes of a mountain, the interiors create a contained, preserved, and clear interior space, a creek whose hollow would shelter a village of terraces, adapted to the climate of the Mediterranean and allowing work and play in the open.
The morphology of the project evokes a dialogue between the security needs of the site and the aspects of quality of life and well-being which are central to space design.