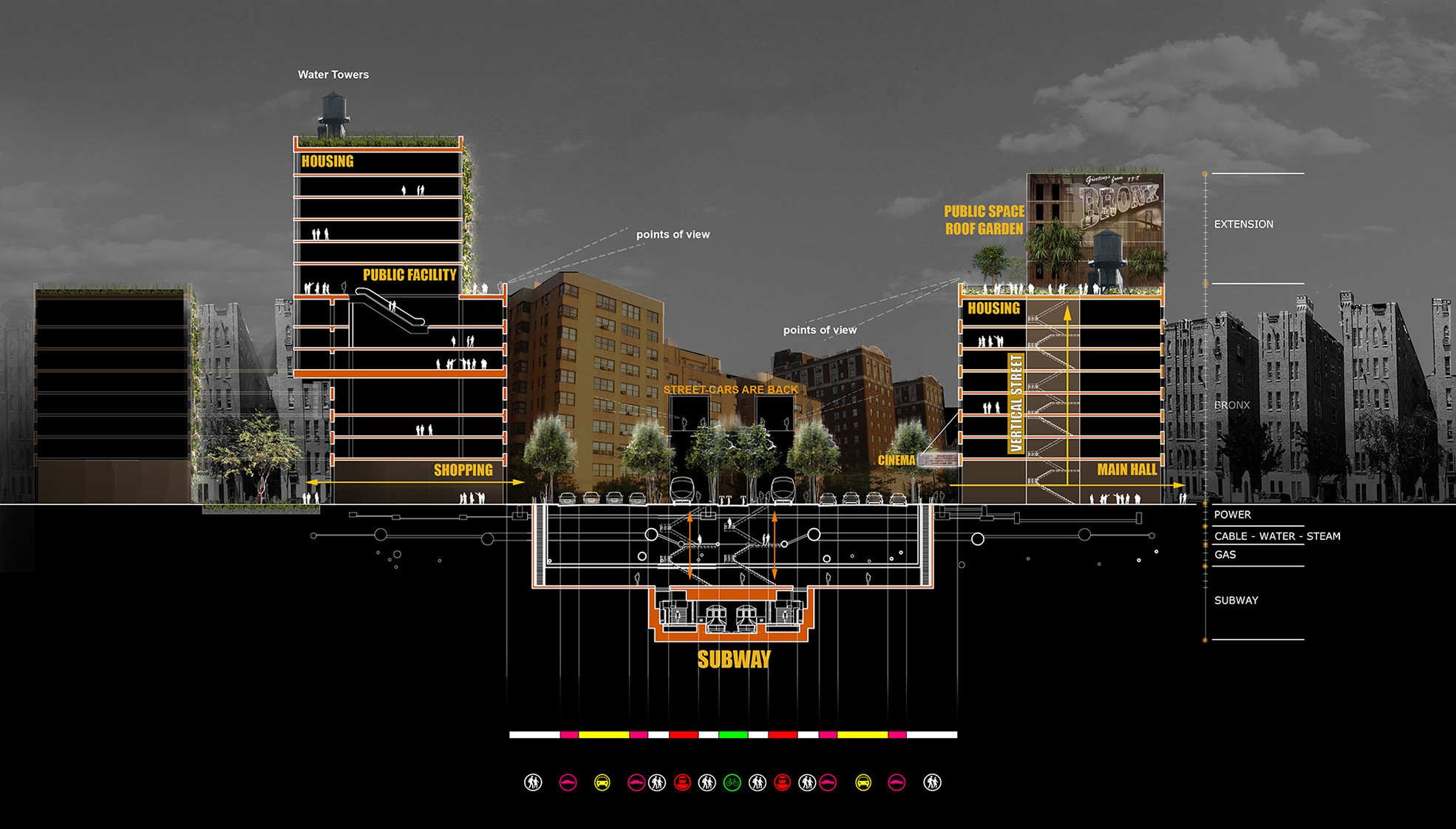 8 700 ha ; Équipe : Bronx Museum of Arts (MOA) + VLAU (Architecte/Urbaniste)
Infuse, along the five kilometers of the Grand Concourse, an urban-scale adaptation of the physical and ecological qualities of Central Park
Develop a hybrid fabric interweaving urban landscapes, mixed-use programs, infrastructure, and public spaces.
Establish connections between ground levels and rooftops to provide a range of public spaces accessible to all users.
A finalist proposal in an international competition organized by the Bronx Museum of the Arts, this project creates the conditions for sustainable urban change along the three miles of the Grand Concourse by transposing the physical and ecological qualities of Central Park on an urban scale. The park is an illustration of nature that is not only synonymous with greenery but that infiltrates the global infrastructure of the city; this is brought into play along the urban thoroughfare of the Grand Concourse, where the insertion of a landscape framework in spots where the existing urban framework is weak creates a hybrid, solid, poetic and dynamic fabric.
Streets and tramways occupy the ground level in connection with commercial programs of ground floors. Freed from these infrastructures, building rooftops can be turned into calm pedestrian-friendly public spaces where different programs overlap in light structures: offices, schools, public facilities, housing. Urban nature spreads along the Grand Concourse by infiltrating gaps, openings, interstices, fissures and residues of the urban framework to create a multitude of poetic landscapes: art deco cliffs, a canyon of buildings, a sea of rooftops and squares like clearings. The city is conceived as a full-fledged ecosystem where the balance between nature and city creates the numerous opportunities of the project.